Uni Students Build Affordable Computers To Donate To Children. Here's How You Can Help
August 9, 2022

Posted by:

Learnings For You

Category:

Blog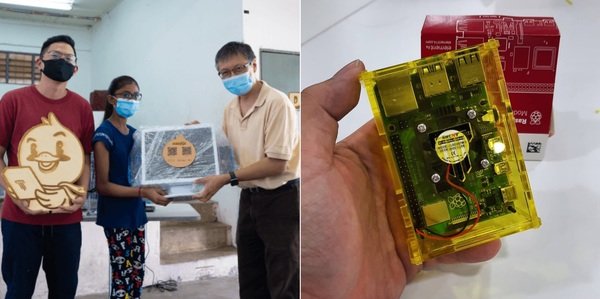 They have since donated over 50 DuckiePi computers!
Subscribe to our Telegram channel for our latest stories and breaking news.
Did you know that about 37% of Malaysian students do not have access to the right devices for e-learning?
That's roughly about 1.8 million students, considering that there are about five million students in Malaysia from primary and secondary schools. 
This means that throughout the various Movement Control Order (MCO) periods when schools were forced to close, many students at home, especially those in the B40 community, lacked proper devices to attend online classes, receive their homework, sit for online tests, and even interact with their teachers and classmates.
Realising that there's a need to make online learning accessible for children in the B40 community, a group of Taylor's students came up with DuckiePi – an effective and compact e-learning computer that costs only RM400 to build
Taylor's University students – Bernard Yap, Jasper Ang, Norman Heng, and Ong Wea Hung – have always wanted to help underprivileged communities, especially during these trying times.
However, they believe that donating cash may not be the most effective way to help those in need, particularly in the long run. That's when they came up with the idea of developing DuckiePi, a multifunctional and cost-efficient computer designed solely to help schoolchildren in the B40 community.
"I realised that in order to better utilise the money and resources, we can convert them to some kind of solution that solves the problem. Often times, providing a solution is better than just solely money itself.
"So, in this context, instead of giving RM400 to each family, we are converting it to a device that they can use for years," said Bernard, who has since graduated from the American Degree Transfer Programme at Taylor's University.
Together with Taylor's Me.reka Makerspace (TMM), the students kickstarted their DuckiePi project as one of the student initiatives under the university's Taylorsphere ecosystem, a curriculum programme which seeks to nurture the three intelligences – intellect, practical wisdom, and craft. 
To ensure that the device is equipped for e-learning, DuckiePi has all the functions needed for an online class, including Google Workspace applications, Zoom, and camera functions
Additionally, the device also comes with Gigabit ethernet, an audio output, 4GB RAM, four USB ports, two HDMI ports, and one SD card slot.
Consisting of these components, plus Raspberry Pi (a type of computer software), DuckiePi is a powerful, efficient, and affordable central processing-unit, which simply needs to be connected to a monitor, keyboard, and mouse in order to function.
And to ensure that its build cost (including the monitor, keyboard, etc.) remains as low as possible, Bernard did thorough research to get the best prices.
"The bargaining process was challenging but kinda fun to be honest. I never thought I will be the one who did this in a project but I tried my best. Most of the sellers were okay to give a reasonable discount once we mentioned we are doing something good and we were buying in bulk, but some got mad when we asked for discount.
"I personally went to Plaza Low Yat physically to search high and low for second-hand monitors and electronics. And (I also got to) make friends with the Lowyatt uncles and enciks.
"One of the biggest concern was the quality of the items, since we bought most of the items online. We had to be very careful and search for reputable sellers," said the student.
After four months of ideation and development with the help of TMM, as part of the Taylor'sphere ecosystem, the Taylor's students successfully created DuckiePi, and have since donated 50 computer sets to students in the B40 community
While TMM aims to donate 100 devices to the B40 community by this year, 50 have been donated to PPR Lembah Subang 1 thus far. 
Besides that, Taylor's University also developed eight additional DuckiePis equipped with offline educational content, all of which were donated to teachers and students at SK Long Sukang in Lawas, Sarawak. 
But, that's not all. Taylor's University also intends to raise RM100,000, with the aim of building more DuckiePis to donate to students across the country
Co-director of TMM, Mike Choong, is encouraging Malaysians to play a part in making education accessible for everyone. 
"The future of DuckiePi would be to have more people participate as part of the community of DuckiePi makers with TMM, to supply the very affordable computer to those in need especially the school students.
"TMM will continue with the fund raising and donation avenues for the public to participate in supplying those in need with DuckiePi. The end goal in making the design accessible to all, is for NGOs or any other parties with the same objective as we do, to be part of this makers' movement," Choong shared. 
Other than receiving monetary donations, Taylor's University is also selling DuckiePis to the public for RM500, with profits going towards building more devices for the B40 community. 
To find out more about how you can purchase a DuckiePi or help contribute to their fundraising campaign, head over to Taylor's University's DuckiePi website
For more #feelgood stories on SAYS:
Shahril Nizam said that he felt like crying out of disbelief that he delivered his baby without doctors and nurses, j…
Read the full story
The COVID-19 patient has diabetes, hypertension, and hyperlipidemia complications.
Read the full story
Ain told SAYS that she could recite her usual script in Bengali, Urdu, Hindi, and Nepali.
Read the full story
The safety measure was set up after a crowd was seen lining outside a hotel in Kuala Lumpur without observing physica…
Read the full story
This content was originally published here.